Hotel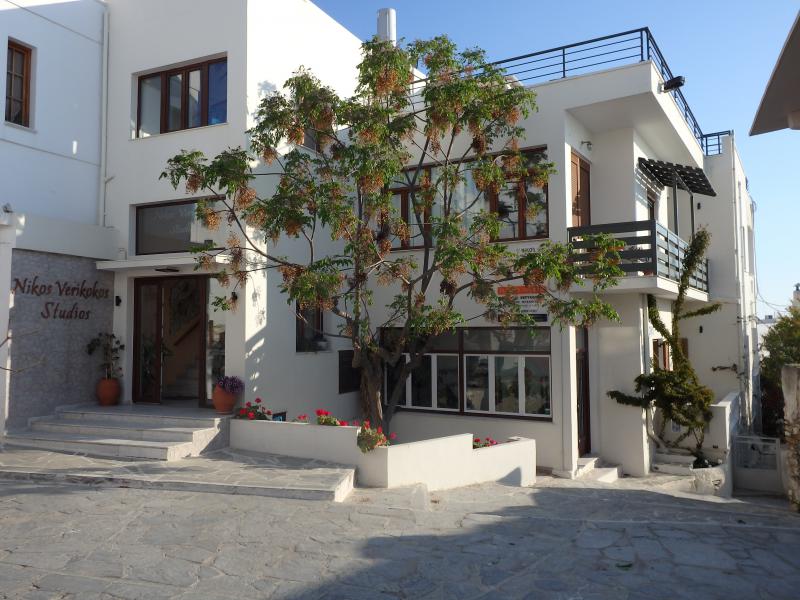 Our Accommodation
The Nikos Verikokos Studios consists of 10 independent, tastefully decorated rooms, studios and apartments. Our Naxos rooms are found in the Old Town of Naxos, very close to the port and also in walking distance from restaurants and shops. With beautiful and elegant style, our apartments and studios can accommodate couples, families and groups of friends.
Our Location
Nikos Verikokos Studios is a family complex of Naxos studios, apartments and rooms located at the foot of the Venetian Castle. This Venetian Castle is the Old Town of Naxos, a lovely Medieval town with paved paths, shops, restaurants and lounge nightlife. Our family complex is found only 100 meters from the main road leading to the port, 400m from the organized beach of Agios Georgios and few steps from Portara, the ancient marble gate at the port of Naxos Town.
About us
In a quiet area of Naxos Town, at the foot of the Venetian Castle and few meters from the street that leads to the harbor, is our family complex of Naxos rooms, studios and suites. The Nikos Verikokos Studios is really a breath into the fabric of Naxos Chora (Town), an ideal accommodation for all visitors looking for a peaceful, relaxing vacation on our beautiful island. Enjoy the wonderful view to the sea from the balcony of our rooms, while at our roof garden with panoramic view of the sea and the city, you can spend some joyful moments with your friends.